Super Clear Ahd 720p 7 Rear View Reversing Backup Camera System Kit Skid Steer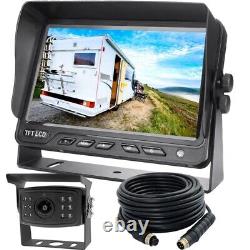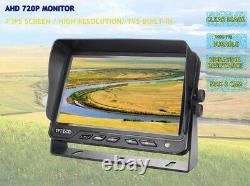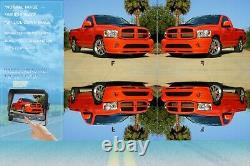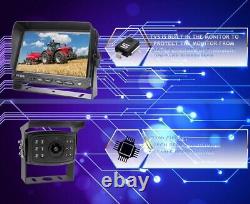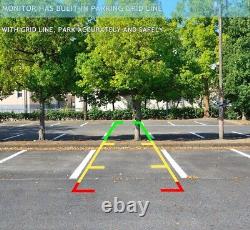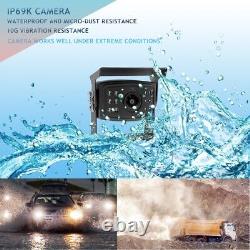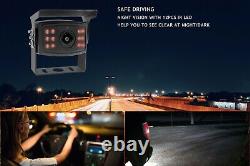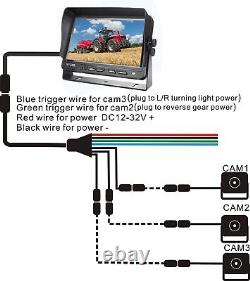 This wired one-camera system is complete with a crystal clear 7 LED AHD Digital Panel color monitor with distance grid lines and mirror image capability, a power harness, one 120° color AHD 720P cameras with 50 foot infra-red night vision and all the wires, connectors and mounts you will need. With built-in system memory, this innovative system automatically saves previous option settings even after it's turned off.
This system has two viewing options. The camera view can be triggered when the vehicle is put into reverse, or remain on continuously. IT CAN BE USED FOR FARM TRACTOR, SCHOOL BUS, GARBAGE TRUCK, SWEEPER, AGRICULTURE EQUIPMENTS, HEAVY EQUIPMENTS, MOTORHOME TO ELIMINATE THE BLIND SPOT BEHIND THE VECHILES. This kit has been upgraded from analog standard definition to analog high definition(AHD) 720P. That is the AHD 720P camera provides a super real color and clear image. 7 WIRED SIGLE VIEW MONITOR1. AHD 720P WATERPROOF NIGHT VISION CAMERA. 15 METERS EXTENSION CABLE WITH 4 PIN CONNECTOR1.
1.7 AHD LCD monitor, 16:9 and 1024RGB x600. Separatedly set each camera's mirror/normal image. Image also can be turned up-side-down.
Automatic blue backlight for buttons. Support up to 3 video inputs, 2 way trigger wires.
Monitor only supplies camera which is in use with DC12V, Energy saving. Monitor comes with removable sun shade. Distance gride line can be turned on or off by menu.
Aviation 4-pin connectors with screw-lock. Image can be rotated by menu to make it to be mirror/normal/up-side-down image. The cameras can be mounted in front/back/side, the image can be rotated by menu, no need to rotate your monitor. 7 Inch Wired AHD Single View LCD monitor.
Support 3 cameras video input. Separate trigger control wires for AV1/AV2/AV3. Menu to set up reversing image delay time 0-15s, mirror/normal image. Monitor will automatic switch-over the image to related camera and back to.
The original mode when the trigger stops. In standby mode, monitor will turn on automatically when triggered and will switch to back up camera image, Trigger end after shutdown. Built-in short-circuit protector When installing and connecting the kit, people connects the female 4-pin connectors to the male one from the camera and monitor, they sometimes connect the video pin of the camera to the power pin of the monitor. It may cause a short-cut, the built-in protector may keep the monitor away from being burnt. Color AHD 720P, Super clear image, better than the standard definition camera.
2.120 degree viewing angle. Aviation 4-pin connector with screw-lock. Video format: PAL / NTSC optional. Waterproof Rate:IP69K, (Micro-dust can not come into the inside of the camera, and the camera can resist the high pressure water of 10000KPa from the spray nozzle, and no water come into the camera at all). Shell material: aluminum alloy camera never gets rusty, and has a higher ability in heat radiation than iron housing.
Dustproof, waterproof, hydrochloric acid prevention, explosion prevention. Waterproof Night Vision Camera with 4 Pin Connector. Our testing devices ensure the reliability of our products.
It usually takes about 3-7days to arrive any countries in the world.