2.4GHz Digital HD Wireless CCD HD Camera Reversing Rear View Kit For Car Truck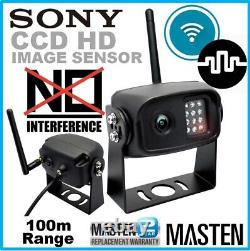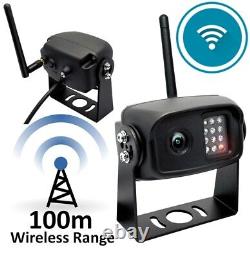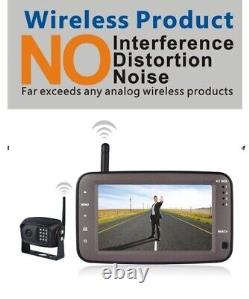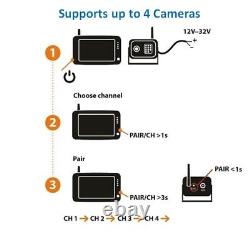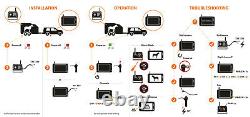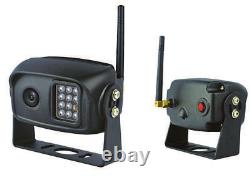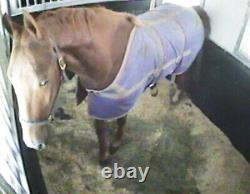 For Car Truck Horse float 2.4GHz Digital HD Wireless 5 Monitor CCD HD Camera Reversing Rear View Kit. Digital signal for less interference and 50m Range. Digital Wireless Camera compatible with Masten RK-5DW High-end DIY-Install Digital Wireless Camera Kit with 50m Wireless Range and CCD Camera. DIGITAL IS A STRONGER SIGNAL WITHOUT INTERFERENCE.
Why select a Masten Product? Masten is 100% Australian-owned and engineered. Masten offers a range of high-quality products to the market at very affordable prices, something the Australian market is currently missing. Masten has been developing products primarily for the 4WD Off-Road market since 2008 so we understand how to make a product that lasts. Please note: Camera Only - Masten RK-5DW Monitor Required. Digital (not Analgue) Wireless Truck, Car, Horse Float, Bus (and more) 5 Monitor and CCD Camera Set. 2.4GHz Digital Wireless Signal. 50m Range on a Line of Sight. Great for Large Trucks and Vans. Transmitting Frequency: ISM 2,400- 2,483MHz. Night Vision Distance: 16ft (5m). Check out the user manual in the images.
What's in the Box. Width: 8.8cm Height (with antenna):18.3cm Height (without antenna):9.5cm Depth:5.5cm. Trusted by the Horse Transport Industry - also perfect for other vehicles. Masten Products are used and trusted by horse breeders all over the world.
It is devastating to lose a loved horse or a newborn foal. Don't leave it to fate. Our products are designed to help you keep your horses safe and reduce the risk of emotional and financial loss. We are dedicated to giving you the best service and products we can provide. The Masten RK-5DW is a high-tech, digital wireless monitor and camera kit that can be used in your horse trailer so that you may always monitor your animals while traveling.
Whenever you must travel with your horses, you most likely spend a great deal of time worrying about the safety and health of the animals. However, you cannot stop every few moments to check on them.
Normally, you would have no way of knowing if your horses are safe and secure. This problem will no longer be an issue for you once you start making use of Masten. Just why do you need to monitor your horses while you are on the road? Think about all of the situations that could come along. If you will be traveling for an extended amount of time, you may not even know if one of your horses is sick or injured until you stop for a rest.
One of your animals could be in pain for hours and you may not know it. However, when you choose to make use of Masten, you will always be able to monitor your horses right from your vehicle. If something were to happen to one of the animals, you will know immediately, and you can address the problem immediately.
This camera kit is different from any other wireless horse trailer camera that you could choose. It is completely digital wireless, meaning you do not even have to hook it up to a power source. In addition, it provides versatility.
You will find many uses for this floating camera, and you will find yourself turning to it again and again. Imagine the peace of mind that you can gain from a product like Masten. Keep in mind that this trailer camera can be used in many other situations, like keeping up with your animals while they are in the barn.
With this horse camera, you will easily be able to monitor your horses at all times. Never again will you have to worry about your horsesâ health and safety. Is the number one solution for monitoring your horses when they are traveling in a trailer. As you have already learned, t.
Is a fantastic tool for monitoring your horses when you are traveling. You will always have an eye on the horses in the trailer and you will not have to wait until you stop just to check on the animals. However, did you know that this product has many other uses?
In fact, this high-tech wireless horse trailer camera can provide you with help in caring for your horses whether you are at home or on the road. Here are some of the many other applications that you can use Masten for. You may be surprised at just how useful this tool can truly be. The trailer camera could be set up in the barn and horse stalls. If you have an animal that is sick, injured, or pregnant, the RK-5DW will make it easy for you to monitor them at all times.
This way, you will be able to help the horse at a momentâs notice. Just as with the barn monitoring. Could be set up to monitor a pasture.
If you have ever had a horse get injured or become ill when it was out to pasture, you will know just how useful this monitoring service is. Camera is waterproof and can easily be used outside. As a form of home security. With the floating camera set up at the right locations, you will be able to see your home and monitor it for intruders.
This can bring a great deal of peace of mind. Perhaps one of the most helpful uses for. Would be with attaching your vehicle to your horse trailer, float, or caravan. With this trailer camera, you will easily be able to attach the two without that frustrating damage that could otherwise happen to your vehicle when you back too close to the trailer hitch.
When you choose Masten, you will be able to get so much use out of it beyond the ability to monitor your horses while they travel in a trailer. There are numerous different applications for this product and you will find yourself turning to it again and again for your horses and for your home. The mountable horse trailer camera system operates in low light and wirelessly beams its signal to the 5 colour monitor placed wherever you like in your truck cab - the dash, air conditioning vents and mirrors are the most common mounting points.
The Masten Wireless Horse Camera is a weatherproof, portable, wireless and lightweight monitoring system. Camera can be used almost anywhere. For example, when back at the stable relocate the Masten camera to monitor stables, fence gates and other areas. Wireless transmission between the camera and monitor can extend up to 50m (clear view). Operating frequency: 2400 - 2483.5 MHz.
Operation temperature: -20°C to +60°C. Size (W x H x D): 10cm x 8cm x 9cm. If we anticipate a longer lead time, it will be noted in the item description or you will be advised before we dispatch your order. Required by your country for importing consumer goods. We do not collect this beforehand, and can't give you an estimate of the cost, because it varies widely around the world.
We will be happy to remove the signature requirement on request; please contact our team before purchasing for details on what you require. Please note that, in this case, you will be accepting responsibility if anything were to happen to the package.
We will take all the required precautions to pack your item well to avoid any incidental damages along the way. Today, there are over 15 staff members across 4 countries focussing on Engineering, Support, Marketing, Accounts and Sales. Drop by and say hello.
Our opening hours are Monday to Friday however, exceptions may be made to meet you there on a weekend. Since 2009 Masten Engineers have been at the forefront of vehicle electronics for both OEM and Aftermarket. We maintain critical spare parts so in most occasions, parts are on hand and ready to solve your issues within a timely period. If we don't have the part in stock, in most cases we can get it in for you despite the product's age.
If you have any questions please don't hesitate to get in touch with our Support team who are here to help. We don't take ourselves too seriously; until it comes to quality!
We're ultra-selective about the electronics, materials, manufacturing process, quality control and finishes of every product. Put simply, we only sell the best.